Direct-Fired Heaters for Vehicle Finishing
Direct fired air handlers for the finishing market deliver fresh, clean outside air into the spray booth or finishing area, as required during active spray and/or cure cycles. Together with the air handler, the spray booth maintains a slightly positive pressurized space resulting in concentrated paint curing times at optimal production operation. Dirt and debris are kept out of the pressurized finishing area while paired with on-board booth exhaust system.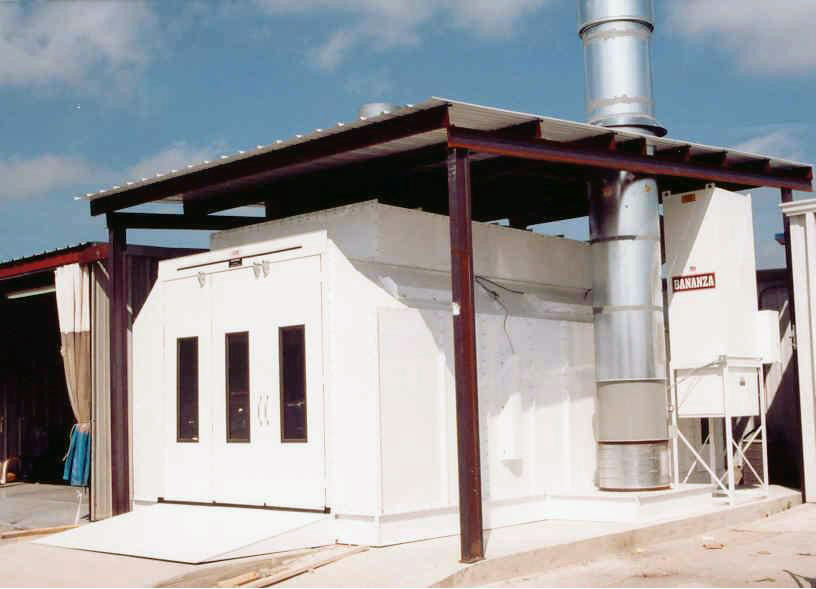 Air handlers for spray booth finishing areas allow for 100% outside air during spray mode operation. Based on heater configuration, cure mode operation varies from a reduced airflow capacity or allowing up to 75% return air capacity. During the paint cure cycle, air supplied to the finishing area is super-heated. The high temperatures within the finishing space allow for efficient production progression during vital business hours.
The pre-engineered remote panels for finishing applications offer a wide range of options. There are six different control options including basic analog up to digital deluxe. The assortment of panel availability allows for desired panel for the job to be customized for application type based on spraying only, curing only, or both spraying and curing paint together. Below is a brief overview of what each remote panel has to offer. The
controls page
offers more in depth information about each individual control.
Remote
Feature

Basic
Spray

Basic
Cure

Analog
Dual #2

Digital
Dual #1

Digital
60-160

Deluxe
Digital

Available Mode

SPRAY MODE

CURE MODE

SPRAY & CURE

SPRAY & CURE

SPRAY & CURE

SPRAY & CURE

Blower Light
& Switch

X

X

X

X

X

X

Burner Light
& Switch

X

X

X

X

X

X

Booth Lights Light & Switch

X

X

X

X

X

Cool Down Light/Timer

X

Magnehelic

X

X

Adjustable Purge & Cure Timers


X


X

Speed Potentiometers

0

0

0

2

1

2

Type/Display

ANALOG

ANALOG

ANALOG

DIGITAL

DIGITAL

DIGITAL
Additional Features:
Listed to ANSI Z83.25 / CSA 3.19 direct gas-fired process air heaters
Purge Timer - Purge cycle occurs before cure cycle starts; utilizes TD2 timer. Purge cycle operates for a minimum of three minutes or four complete air changes of the paint booth volume, whichever is greater. Maximum field adjustability of 60 minutes.
Cure Timer - Cure cycle occurs after completed purge cycle; utilizes TD3 timer. During cure cycle, booth lights are locked out and entry into the booth is undesirable.
Cool Down Timer - Cool down cycle begins immediately after cure cycle finishes; utilizes TD4 timer. Cool down cycle, adjustable up to a maximum of 100 hours, allows finishing area temperature to return to temperature as measured during spray cycle.
Exhaust Motor Starters - Allows connection of spray booth exhaust system to air handler operation.
Contractor Lighting Panel - Additional lighting panel for paint spray booths allows a maximum of 30A at 120V and 220V. The panel can function as the booth light relay.